Second Integral batch, GR-MEGA development
It's been a while since we last posted some news.
The GR-MEGA
We featured a questionnaire about the name of the GR-MEGA on our Facebook GR-1 user group. We thank you for participating. The response was a bit overwhelming. Most of the suggestions featured the GR- prefix, where a lot mentioned GR-X, GR-M, but also GR-MEGA. So we decided to just stick with GR-MEGA. The more things change..
We made a more sleek and flatter version of the casing, and redo the graphics on the front and back plates. The connector positions and names are now visible from the front. We added a few more buttons to speed up important functions like using the ADSR sliders as layer mixers, controlling the ADSR curve, and for future macro support. The logo was redesigned and resized. We added wooden side panels. At this point we're thinking walnut.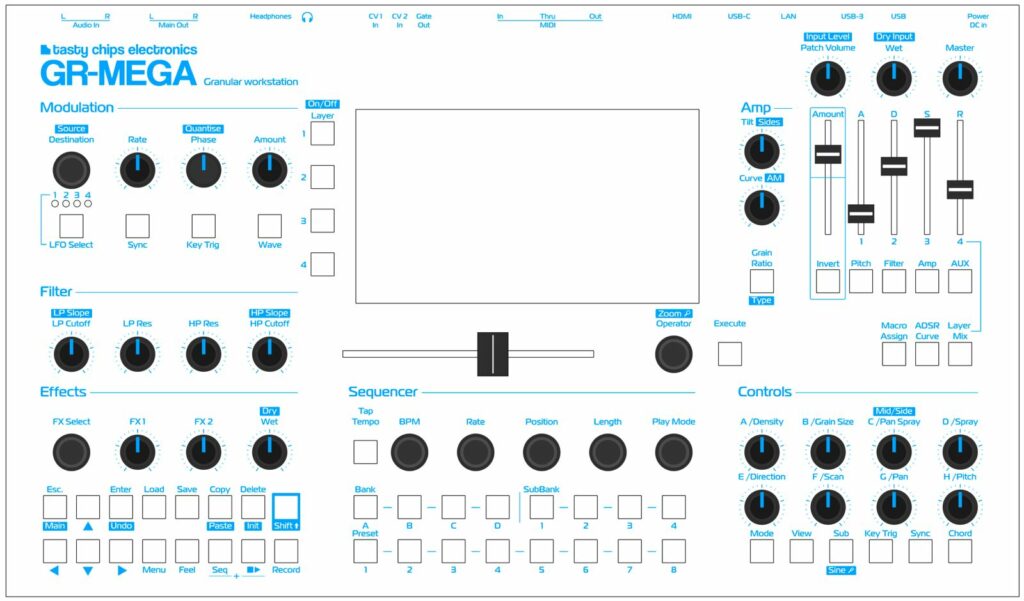 We'll feature more renders and photos in the next news letter.
The electronics development is entering the final stages. We have designed the computer PCB that hosts:
500GB of fast permanent storage (SSD) running close to 400MB/s, so suitable for hour-long stereo samples,
USB 2 and 3 connectors for MIDI keyboard, computer keyboard (for easily typing those preset names), and USB stick (comes with the unit!),
Noise free USB C for DAW integration
Gigabit Ethernet for file sharing, and possibly RTP MIDI
External HDMI for external monitors and beamers
The USB-C DAW integration is something you guys have to hear about: it means the GR-MEGA can stream 4 stereo channels to the PC, and record 4 stereo channel from the PC. The MEGA is recognized as a USB class-compliant 8 channel in 8 channel out audio interface. Furthermore, there's MIDI too. We've tested this in Ableton and Bitwig, and it works like a charm. Alongside the built-in high quality stereo inputs, you've now got easy digital inputs as well. We're also thinking about making a Max/Ableton plugin again, like what we did for the GR-1, but this time you could also transfer complete patches, along with samples via this plugin.
We've designed the hardware to be easily serviceable, and as reliable as can be. We've chosen parts that have a long life span, and can be easily purchased and replaced in the future. This is what you'd expect from a high-end model.
The firmware has come a long way:
Loading and saving are a breeze. Saving is just hitting the save button. You're see a small dialog that asks what you want to save, in what slot, and possibly rename. Hit save again. Simplest, and most used case: just hit the save button twice. No key combos, no menu dives, no comprehending complex data types. Presto. When you reboot it's there under that name, in that slot.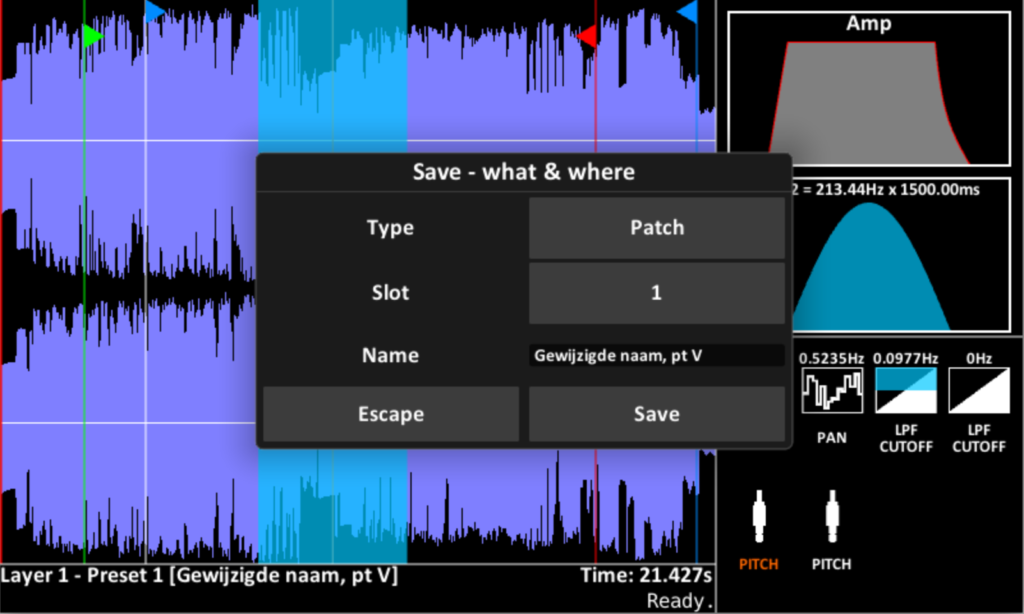 (Don't worry the colors are not final yet)
Knobs and sliders are now instantly assignable as destinations when you hold down a mod button, and then wiggle. All synth modes: granular, sampler, tape, phase vocoding react the same to parameters, whether it is spray size, loop flags, or chord voicing. This makes the engine, and the unit itself more intuitive and more powerful than anything we've ever built.
We have a new GUI that's faster, every menu is displayed instantly, and every folder is displayed instantly. As a bonus it frees up processing power for audio. In tests we pushed CPU usage to 95%: zero dropouts. In practice this means that 5000 grains can play at the same time, and we expect we can push this to over 6000 by fully exploiting the CPU time saved by the new GUI.
About the wait, and the costs: as mentioned before 1800 euros including VAT, meaning 1500 euros for people buying it outside of Europe. We start shipping the first units at the end of the year.
You already knew this. The news is that we will ask for a down payment of 500 euros (ex VAT) in November. First we'll ask the current people in the waiting list, and then we'll open up preorders for everyone.
For more info on the GR-MEGA you can read the GR-MEGA spec sheet from our previous post: GR-MEGA and Integral specs. If you'd like to get on the GR-MEGA waiting list, reach us at info@tastychips.nl. Thanks.
The Integral
The first batch is sold out and now at home or in the studio with their happy new owners. The second batch is now being manufactured. We've opened back orders! You can expect the first units to ship in November, so the lead time is now about 4 weeks. You can place your backorder here Integral Dual Convolver Stompbox.
We're planning to make a "complete" edition that includes PSU and USB stick in a bigger package. We're also preparing a new firmware 3.0 for the Integral! Feature list to be disclosed in a few weeks 😉
GR-1
We've released firmware 2.8.3. This adds a measure to guard against data corruption. Please feel welcome to download and try it from our GR-1 Support Page, or use LAN update.