ST4 silkscreens, and the year 2016
Traditionally, there is good news, and there is bad news. This is no exception. So..
Good news, people: the first silkscreen painted casing arrived. See below (click to enlarge). And yes, the power switch is in the Tasty Chips logo 🙂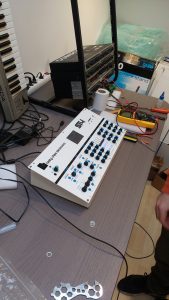 Bad news, people: the silkscreen quality isn't high enough. And this means the delivery will be postponed to next year.
To explain. The silkscreen is spotty and varies in thickness over the plate. We'll need another iteration to perfect things. Sorry, we just can't choose to rush this. Especially not on a synth of this class. Which is to say, we will clear this up. No matter the cost!
Now that that's out of the way. Other news!
Superbooth 2017: April 20..22, Berlin. The most interesting synth fair in Europe. We're there to demonstrate all our stuff, including formerly classified projects!
In the meantime we'll keep working on our projects. The ST4 still needs to support more USB keyboard languages 😉