Sawbench update: 120x PCB's, casing, planning
The electronics
This week the 100 analog and 100 digital sawbench PCB's finally arrived. We already had 20 before and these are now fully soldered and tested. The PCB's seem fine: the silkscreens are now DIY-proof (all values are printed).
There's one set back: the snap-in holes of the potentiometers aren't big enough. In the past it's been hit or miss. Either they are just right or too small. The supplier seems unable to tell us what's up with that. Our guess is, it's not a very accurate process. Not as critical as the rest of the PCB. The holes in the EAGLE drawings are small too. Seems like a lucky accident that they sometimes end up being bigger.. Oh well, next time we'll change the diameters. For now, it's manually re-drilling 1200 holes (!!!). This is a day of work, so nothing to worry about, except a sore thumb. 😉
The casing
The casing design will be finalized today. And we can say it looks fantastic! An early version: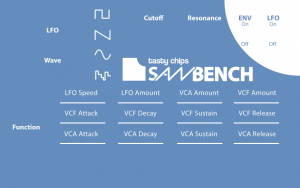 The graphics will be inverse. The background will be aluminium and the font and drawings in blue. The best news is that the colour will be integrated into the aluminium skin, making it scratch-proof and solvent-proof!
Honestly, we cannot wait to get our hands on these casings, but it will have to wait for a bit. Read on..
The planning
There have been some questions about the delivery schedule..
First of all, Kickstarter informs us of a 14 day period to collect all the pledges. This would (ideally) mean we'll have the money by April 16th.. and can then start paying for casing fabrication.
The way it looks now the bare bones kits will be able to ship this month (April). We have enough PCB's and a small batch of potentiometers should arrive in a few days.
Casing production (of 200 units) will take 4 weeks in total, and can only start when the Kickstarter money is in: it's the most expensive part of the product.. We're trying to get the first 100 casings before the end of the month, but we don't know yet if this is possible. We'll update this post when we know more.. Worst case estimate is that we can start assembling the full units from May 14th onwards.
April 15th: barebones kits start shipping
April 15th: first batch of potentiometers should arrive
April 16th: Kickstarter money should be transferred
April 16th: start of casing production
April 30th: (POSSIBLY) first casings should be available
April 30th: (POSSIBLY) the first 10 cased units may be shipped out!
May 8th: final batch of potentiometer knobs should arrive
May 14th: casing production done
May 19th: final batch of potentiometers should arrive
May 20th: shipping of kit+casing and full unit should commence